10 Times Rihanna Reminded Us That She's an Icon
Today marks RiRi's 32nd birthday and we are celebrating our queen with 10 of her most iconic moments. From her snack obsession, to her UNREAL dancing, we've got all the best Rihanna content in one place. If you thought you couldn't love her any more, let us change your mind.
1. "What are you looking for in a man?"
Rihanna's response to the question "What are you looking for in a man?" was completely priceless. She is everything we wish we were.
2. THAT see through dress
Can we all just take a hot moment to appreciate Rihanna at the 2014 CFDA awards? Not only was that dress completely see through, but it was also dripping in Swarovski crystals…
Swipe for 🍑➡️
3. The way she asked the paparazzi to move out of her way
This is how we feel when we are stuck behind slow walkers on the daily commute.
4. The time she snuck a hip flask into the Grammys
The best thing about this, is the Grammys DEFFO have a free bar. Ri doesn't wanna drink their sh*tty house spirits, she is a premium gal with a flask of premium tequila.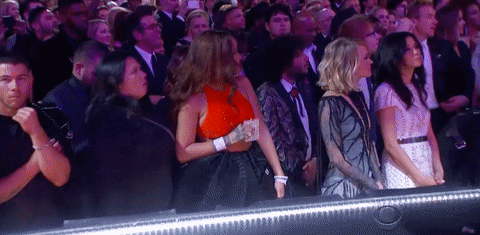 5. Her ridiculous tour snacks
Rihanna's snack game is seriously strong. When she goes on tour, her backstage rider is so extra and we are HERE for it. To name just a few: Regular Cheetos, Hot Cheetos, Golden Grahams, Oreos, Cup'a'Noodle, red and white wine, vodka, soda, frappuccinos and garlic olives. (We love a diva and we love snacks).
6. RIHANNA. AT. CARNIVAL
Need we say any more…?
7. When she taught Alan Carr to dance…
Alan was almost as good as Rihanna, almost… He deffo nailed the Dutty Wine & Bogle. Forget A$AP and Ri, we are shipping RAlan.
8. When she performed the smoothest transition ever
SZA and Rihanna's 2016 Brits performance was something else. We did not see Work coming, but they killed it.
this has got to be the smoothest transition ever! pic.twitter.com/OLX9bLRB6l

— #HappyBirthdayRihanna (@G4Ljackson) January 25, 2020
9. Victoria's Rihanna's Secret
Justing Bieber's face just says it all really (his reaction is at 0.26). Rihanna walked the 2015 Victoria's Secret show and it was everything we could have wished for and more. That GOD DAMN STRUT.
10. Her ability to find snacks at every event
Rihanna may have thrown a super fancy party for the launch of Fenty Beauty in 2017, but that did not stop her from chowing down on some super sugary donuts. Our philosophy is: eat the snack now, worry about the crumbs and stains on your dress later.
Stay in the loop with loads of red carpet roundups, celebrity style steals and influencer inspo. Check back to the BabeZine for more cool sh*t daily.

You might not be able to afford Rihanna's wardrobe, but you can probs stretch to a cute new dress from our new-in section. Get scrollin' below.