20 Films You Should Watch Once in Your Life
If you feel like you have completed Netflix and seen everything on Amazon Prime, think again babe. We have created the ULTIMATE movie bucket list of classic chick flicks and fun films. So, grab the popcorn, get your comfiest PJs on and make the most of your time in quarantine.
Breakfast at Tiffanies
Ferris Bueller's Day Off
When Harry Met Sally
Dirty Dancing
Bridget Jones's Diary
Clueless
Heathers
Mean Girls
Bring It On
Legally Blonde
Bridesmaids
10 Things I Hate About You
The Breakfast Club
Pretty Woman
The Notebook
Devil Wears Prada
Notting Hill
Easy A
She's The Man
Titanic
Films you need to see
1. Breakfast at Tiffanies
Audrey Hepburn's most famous role, this classic movie is full of fancy New York parties, luxury living and quotable lines. (Think Gossip Girl set in the 1960s).
2. Ferris Bueller's Day Off
If you want a a feel good movie, this is it. It's basically a story of three friends who bunk off school for the day and go on a mad adventure.
3. When Harry Met Sally
Possibly one of the most iconic rom coms of all time. This movie follows Meg Ryan and Billy Crystal as they try to prove that men and women can have a truly platonic relationship…we can all see where this is going.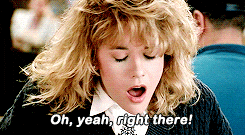 4. Dirty Dancing
Need we say any more? If you haven't seen it already, what have you been doing with your time?! This film has romance, 80s fashion and Patrick Swayze, what more could you want from a chick flick?
5. Bridget Jones's Diary
With four films to pick from, a Bridget binge-fest is exactly what you need to add a little feel-good attitude to your day.
6. Clueless
Possibly one of the best teen movies of all time? Cher has paved the way for a 90s fashion resurgence and we are here for it.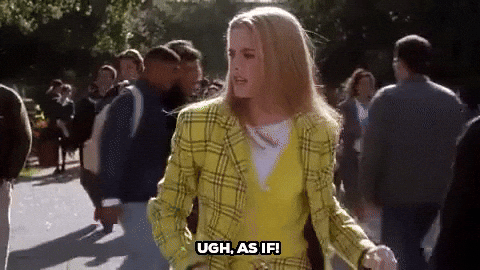 7. Heathers
This dark comedy from 1988 is all about the popular girls 'The Heathers', but when they accidentally poison someone, the story takes a twisted turn. Starring Winona Ryder, this is definitely a movie you should tick off your list.
8. Mean Girls
Possibly a movie of a generation, Mean Girls has become one of the most quotable films of the last 10 years. Even if you've seen it a million times, it never gets boring. Follow Cady as she tries to work her way into the popular group, or 'the plastics' as they are known.
9. Bring it on
If you love Cheer on Netflix, then you will be obsessed with Bring It On. Starring Kirsten Dunst and the rest of the squad as they create their best routine yet.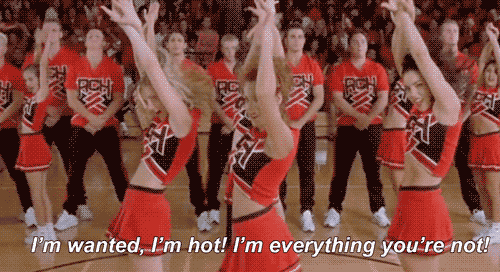 10. Legally Blonde
If you want a good female empowered movie, then Legally Blonde is the one for you. Elle Woods breaks every stereotype and reminds us that we should't be judged on the way we look or dress.
11. Bridesmaids
This is the ultimate chick flick for belly laughs and uncontrollable snorting. Featuring some of Hollywood's funniest women, it follows all the disasters that can possibly happen when planning a wedding.
12. 10 Things I Hate About You
Can we all just take a hot minute to appreciate Heath Ledger in this film? If you want a feel-good rom com about high school, insecurities and a beautiful man who is practically perfect in every way, you've just found it,
13. The Breakfast Club
The ultimate coming of age film that combines kids from every clique in the school, the only thing they have in common is detention. They start to learn loads about each other and realise they are more similar than they thought.
14. Pretty Woman
Pretty Woman is probably one of the most referenced movies of all time. Follow Julia Roberts and a dreamy Richard Gere as they fall in love under unusual circumstances.
15. The Notebook
If you ever fancy a good cry, just pop The Notebook on. Released in 2004, it tells the story of Allie and Noah (Rachel McAdams and Ryan Gosling), a couple who were separated by fate. It's also based on a book of the same name.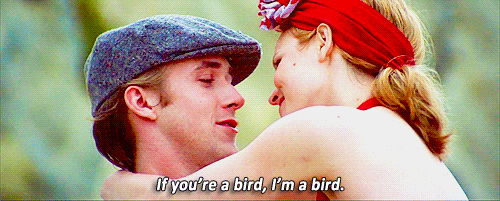 16. The Devil Wears Prada
The film follows Anne Hathaway as she takes an intern role in one of the world's leading fashion magazine. She reports into the editor, played by Meryl Streep, who manages to be terrifying yet iconic at the same time.
17. Notting Hill
Directed by Richard Curtis (who also brought us Love Actually, Four Weddings and a Funeral and more), Notting Hill is a classic romcom with an all-star cast. Think Hugh Grant, Julia Roberts and
18. Easy A
Easy A stars Emma Stone as she smashes down the stereotypes of slut-shaming. It's a feel good movie with loads of famous faces, including Phoebe from Friends and Aly Michalka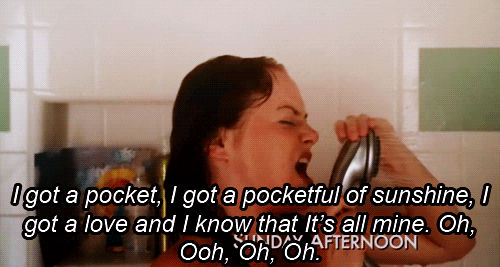 19. She's The Man
Possibly one of the best early-teen films ever?! Based on Shakespeare's Twelfth Night (very loosely), this comedy stars Amanda Bynes as she goes undercover to play football at her brother's school.
20. Titanic
Maybe the best love story ever? Filled with fancy-ass clothes, a young Leonardo Di Caprio and a heartbreaking divide between rich and poor, Titanic is a timeless classic that everyone should see at least once in their lifetime.
Movie-watching uniform
Check back to the Babezine daily for new stuff including exclusive music interviews, makeup tutorials and more.