5 Red flags to look out for in your workplace
Know your worth and double it…
If you are feeling fed up at work and some things aren't sitting quite right with you, it's safe to say that you have probably spotted at least 2 or 3 of our red flags in the workplace.
Although we all have to work and earn money somehow, staying in a job that is a bad fit for you, can have a huge negative impact on your mental health. If you are struggling with the 'sunday dreads' or you hate the thought of work in the morning, it might be a sign to open up those job sites and get applying for something new.
Remember you spend SO much time working, that a bad experience in your workplace can have an effect on your whole outlook on life. Now, let's get a few things straight… work isn't usually ENJOYABLE but by no means should it be awful. There are very few people that look forward to a Monday and can't wait to start cracking on their emails, but in the same breath, this task shouldn't be something that you worry about during your time off. Keep scrolling to help identify our biggest workplace red flags.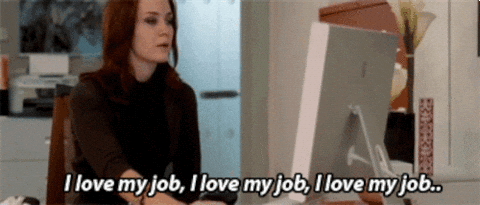 Warning signs that your workplace could be toxic…
Lack of communication
High staff turnover
Negative attitudes about work
Lack of feedback
Micro managing
1. Lack of communication
No matter what industry you work in, if there is poor communication, it's probably a bad sign. From offices to restaurants, staff at all levels should be making an effort to speak to one another, explain changes in the workplace and encourage cross-team interaction.
2. High staff turnover
There is ALWAYS a reason that people are leaving. It is not an easy to keep moving jobs, so a high staff turnover in the worplace is a major red flag. Take a look at workplace reviews on websites such as Glassdoor to see what previous employees say about the company.
3. Negative attitudes about work
If you are working in a company where EVERYONE seems to be negative about their work, senior management and the business as a whole, it's probs time to start working on that CV. A bad attitude from other people can really effect the morale and won't be a good place to work.
4. Lack of feedback
Ensure you are getting LOADS of feedback from your manager and colleagues. Without performance reviews and frequent meetings about your work, how do you expect to progress? If you enjoy your job, but don't get enough feedback, this is your sign to ask for it. Put in a meeting and push for your progression.
5. Micro managing
If you are being micro managed, you will probably come to realise that you are in a toxic workplace. Micro management usually comes down to a lack of trust from your senior team. If they don't trust you to do well, then they aren't likely to put you forward for progression. Micro managing is also an easy way to pass the blame, don't stand for that!
DISCOVER WORKWEAR AT MISSGUIDED
Dressing for work can be tricky, it's important to find the balance between formality and personality. Try bold coloured chic blazers, layering, tailored trousers and more.
Looking for a new job? Take a look at our top tips to creating the ultimate CV. This easy guide will help you get noticed and bag yourself an interview.
Managed to land the interview? We spoke to the Missguided Talent Team to find out their top tips on nailing a video interview during lockdown.
Check back to the Babezine daily for new stuff including exclusive music interviews, makeup tutorials and more.