How to celebrate Galentine's day in lockdown
Tips on a virtual celebration with the gals
Whether you have a partner or not, Galentine's Day is still one to be celebrated. It's an opportunity to show your whole group just how great they are. Usually we would be recommending a bottomless brunch or takeaway and wine night, but with lockdown 3.0 still taking its hold on the UK, we will have to celebrate it a little differently this year.
What is Galentine's Day?
Celebrated on the 13th February, it is a day to celebrate your whole girl group. You can buy gifts for each other, celebrate your friendship and just have a good time.
Where does Galentine's Day come from?
The term 'Galentine's Day' was originally coined by Leslie Knope in the US sitcom Parks and Recreation, but since then it has firmly secured its place in our social calendars.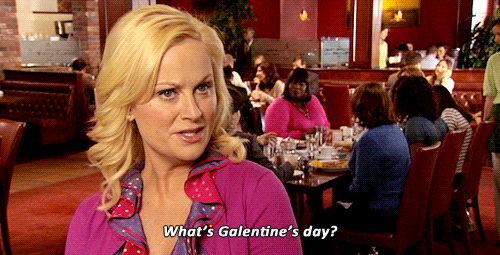 Celebrating Galentine's Day in Lockdown
If you are in a houseshare or a uni flat, your Galentine's Day plans can go ahead as normal. Organise a bottomless brunch with your housemates, fill up on prosecco, play your favourite tunes and exchange gifts.
Those of us that can't see their friends on Galentine's Day 2021, may need to change up their plans and make it a virtual celebration. Follow our easy steps below to make sure your friends feel loved and appreciated on February 13th.
Virtual Galentine's Ideas
Eat your favourite foods
Wear matching outfits
Create a playlist
Play drinking games
Send a care package
1. Eat your favourite foods
Make your virtual Galentine's Day allllll about the food. Whilst you are on a Zoom call, you can all order your favourite pizzas, takeaways or fast food deliveries. This shared experience will help you feel like you are closer together. (Plus any excuse for a pizza party right?)
2. Wear matching outfits
Yes, it's okay to be THAT extra. A few days ahead of your virtual Galentine's celebrations, order yourselves a matching loungewear or pyjama set. Just think of the cute screenshots you can get from the call.
3. create a playlist
Create a collaborative Spotify playlist and invite all the group chat to join. Fill it with your favourite tunes that remind you of nights out together, your favourite artists and fun moments together. Once the Zoom starts, nominate a member to play it out loud so everyone can hear.
4. Play drinking games
Nothing says 'Girls night in' like a couple of drinking games. The easiest way to get everyone involved is to use a website such as Drunk Pirate. You can insert all of your names and the website hands out questions and forfeits and more.
5. Send a care package
A small gift can go a long way. You don't have to spend much money to show your friends you are thinking of them. Create a bundle of their favourite things and pop them in the post. This could range from sweets and chocolate, to facemasks, candles, moisturiser or something homemade.
Care package ideas…