How to support Pride 2020
Pride 2020 festivals may have been cancelled, but you can still celebrate it in different ways. Whether you are a member of the LGBTQ+ community or an ally, here's some easy ways to show your support during Pride month.
Supporting Pride in 2020
Whether you want to donate to charity, research the history of Pride or attend a virtual event, here's everything you need to know.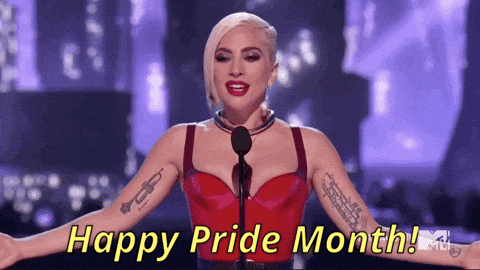 Virtual Pride Events 2020
Para Pride – In response to Pride festivals being cancelled across the world, UK Black Pride, Amnesty International, Stonewall and ParaPride decided to set up their own virtual festival called Pride Inside. Running from Sunday 28 June – Sunday 5 July, there will be a whole host of LGBTQ+ musicians, DJs, comedians and discussion panels streaming live. You can find out more at Amnesty UK here.
Virtual Pride- Teenager Kiara Fox decided to set up a virtual Pride event, since announcing the idea, they have had hundreds of thousands of people show interest. Kiara and her team have set up loads of events including educational lectures, singers, comedy, drag shows and much more. Head to the Virtual Pride website to take a look at their calendar of events.
Bi-Pride- The organisers of London's annual Bi-Pride festival have taken the event online. Although the event is free, donations are welcome. Taking place on the 20th of June, the one-night festival will include appearances from bi drag queens, influential speakers, influential speakers and more. In the true spirit of Pride there will also be a DJ hosting the after-party. Find out how to get involved with Bi-Pride here.
LGBTQ+ charities to donate to
If you want to show your support for the LGBTQ+ community during Pride month, here's a few charities that you can donate to and a little overview of what they do.
Kaleidoscope Trust
The Kaleidoscope Trust charity supports the human rights of LGBTQ+ people all over the world. The activist group work with government ministers and lobbyists to implement real change in countries where people could face persecution due to their sexuality or gender identity.
Stonewall
In case you didn't know, the Stonewall charity is named after the famous 1969 riots in New York City. They work towards one mission, which is to "let all lesbian, gay, bi and trans people, here and abroad, know they're not alone". They do this by empowering individuals to change and protect laws.
Mind LGBTQ+
The UK- based mental health charity Mind has a specific department dedicated to the LGBTQ+ community. They are dedicated to offering advice, support and guidance for any member of the community that may be struggling to manage their mental health. Their website reads "Those of us who identify as LGBTQ+ are more likely to experience a mental health problem than the wider population. This is because LGBTQ+ people experience bullying, rejection, stigma and discrimination which too often lead to low self-esteem, depression, anxiety and isolation."
How to learn more about Pride & the history of the LGBTQ+ community
On social media, we are constantly asking one another to educate ourselves on important topics, but it can be difficult to know where to start. We've listed a few, books and documentaries to get your educational journey started. Take a look below.
Paris is Burning
This iconic documentary centres around the Drag Ball scene of the 1980s. These events were run, performed and enjoyed by the Black LGBTQ+ community in New York. You'll probably have heard references to Paris is Burning on RuPaul's Drag Race. The TV series Pose is also based around Drag Balls too! You can watch it on Netflix now, so what are you waiting for?
The Death and Life of Marsha P. Johnson
Martha P Johnson was a trans activist that had an incremental role in the Stonewall Riots, dedicating her life to LGBTQ+ rights. This powerful documentary takes a look into her suspicious death as well as the amazing achievements throughout her life.
Stonewall
If you don't know much about the history of Pride, you probably haven't read into the Stonewall Riots. Outlined by historian Martin Duberman, this book follows six activists who were involved into the fight for LGBTQ rights. Their stories combine to create an the backstory that that led up to the riots, ultimately leading to the first ever Pride march in 1970.
The Stonewall Reader
Now 50 years on from the Stonewall riots, this book takes a look through the New York newspaper archives, exploring different accounts of the events and how they took place. If you weren't there to hear the news at the time, this book is one way to relive the history.
Make sure you head back to the BabeZine for loads of interviews, TV recommendations and articles around Pride 2020.